The police in Lagos State stated that they had arrested six individuals allegedly concerned within the destruction of campaign posters of an undisclosed political celebration and changing them with any other.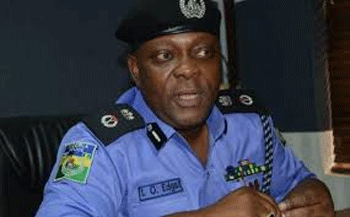 The Spokesman of the Police Command within the state, CSP Chike Oti, showed the arrest in a commentary, stressing that the suspects had been arrested on Sunday at about 2.30 a.m. by way of the Anti Crime Patrol Team of Ikeja Police Division.
According to Oti, the suspects who belong to 'TAKE IT BACK Movement' had been discovered tearing posters of alternative political events and changing them with that of African Action Congress (AAC).
He stated that their action was once opposite to Lagos State Signage and Advertisement Agency (LASAA) rules that forbade advertisers from pasting posters at no different hour than throughout the day time.
The News Agency of Nigeria (NAN) stories that closing Wednesday, an settlement was once reached by way of political events in Lagos to not deface campaign posters of alternative political events nor ruin their billboards.
The settlement was once reached at a gathering held by way of the Commissioner of Police within the state, Imohimin Edgal, on the Police Officers Mess, GRA, Ikeja, the place political stakeholders, including INEC and events flag bearers had been provide.
Oti stated that shows recovered from the suspects come with a poster bearing the image of the presidential candidate of the African Action Congress, (AAC) Mr Sowore, brush, buckets containing gums and switch off posters of alternative political events.
"The CP has directed that the suspects be charged to court docket on Monday for malicious harm and habits prone to purpose a breach of the peace to function a deterrent to others," he stated.
Related
(function(d, s, id) {
var js, fjs = d.getElementsByTagName(s)[0];
if (d.getElementById(id)) return;
js = d.createElement(s); js.id = id;
js.src = "http://connect.facebook.net/en_GB/sdk.js#xfbml=1&version=v2.9&appId=1281965775160257";
fjs.parentNode.insertBefore(js, fjs);
}(document, 'script', 'facebook-jssdk'));
//Facebook
(function(d, s, id) {
var js, fjs = d.getElementsByTagName(s)[0];
if (d.getElementById(id)) return;
js = d.createElement(s); js.id = id;
js.src = "http://connect.facebook.net/en_US/sdk.js#xfbml=1&version=v2.4&appId=513460408765074";
fjs.parentNode.insertBefore(js, fjs);
}(document, 'script', 'facebook-jssdk'));