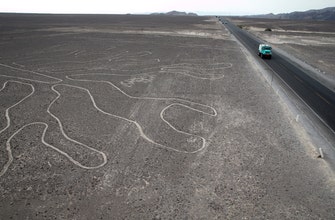 LIMA, Peru (AP) — Sebastien Loeb received the second stage of the Dakar Rally on Tuesday, displaying he can grasp the Peruvian dunes the place he crashed out final year.
Giniel de Villiers was fourth and have become the general chief, 28 seconds forward of Toyota teammate Bernhard Ten Brinke. Nani Roma was third general, and Loeb was lower than two minutes off the tempo.
Loeb hit the entrance before the midway level of the 342-kilometer stage down the Pacific coast between Pisco and San Juan de Marcona, and held off a hard-charging Roma to win by eight seconds.
"Finally, we did stage with no massive mistake," Loeb mentioned. "For the second, every part is OK."
The Frenchman's warning is predicated on expertise. Last year, Loeb was in second general when he needed to abandon the race after by accident driving right into a gap to keep away from one other automotive and his co-driver was harm.
Roma additionally withdrew final year when he rolled his automotive 200 meters from the top of an early stage. He spent the previous year rallying greater than ordinary to be freed from any fears for this Dakar.
Ten Brinke, third on the stage, was one other driver seeking to rebound. Last year, he was on the point of finishing third when he needed to retire on the penultimate stage.
De Villiers performed it safe to complete fourth and seize the general lead, which might be ominous for his rivals. De Villiers not often makes errors. The champion of the first Dakar in South America in 2009 has by no means retired within the earlier 15 Dakars. He has completed within the high 5 in every of the final eight.
Overnight chief Nasser Al-Attiyah was greater than three minutes again, and seven-time winner Stephane Peterhansel was 14 minutes down after getting caught in dunes.
Joan Barreda remained the motorbikes chief after finishing third on the stage, received by defending champion Matthias Walkner. The Austrian moved to 91 seconds behind Barreda general.
}; let googlePixelLoader = function(){
window['google_conversion_id'] = 832239217; window['google_conversion_label'] = "TccACP23rXkQ8ezrjAM"; window['google_remarketing_only'] = false;
getScript(window.location.protocol + '//www.googleadservices.com/pagead/conversion.js'); }; let fbPixelLoader = function(){ /* from https://fng-jira.fox.com/browse/FSCOM-12494 - Facebook Pixel Code */ !function(f,b,e,v,n,t,s) {if(f.fbq)return;n=f.fbq=function(){n.callMethod? n.callMethod.apply(n,arguments):n.queue.push(arguments)}; if(!f._fbq)f._fbq=n;n.push=n;n.loaded=!0;n.version='2.0'; n.queue=[];t=b.createElement(e);t.async=!0; t.src=v;s=b.getElementsByTagName(e)[0]; s.parentNode.insertBefore(t,s)}(window, document,'script', 'https://connect.facebook.net/en_US/fbevents.js'); fbq('init', '161811331078914'); fbq('track', 'ViewContent',{content_name:'Mobile_App_Install'}); };
(function(b,r,a,n,c,h,_,s,d,k){if(!b[n]||!b[n]._q){for(;s<_.length;)c(h,_[s++]);d=r.createElement(a);d.async=1;d.src="https://cdn.branch.io/branch-latest.min.js";k=r.getElementsByTagName(a)[0];k.parentNode.insertBefore(d,k);b[n]=h}})(window,document,"script","branch",function(b,r){b[r]=function(){b._q.push([r,arguments])}},{_q:[],_v:1},"addListener applyCode banner closeBanner creditHistory credits data deepview deepviewCta first getCode init link logout redeem referrals removeListener sendSMS setBranchViewData setIdentity track validateCode".split(" "), 0); let branchData = null; branch.init('key_live_acdMtqDFnx4gILoc1Rq9VbckBtmjzNok', function(err, data) { branchData = data; }); branch.addListener('didShowJourney',function(){ let iframe = document.getElementById('branch-banner-iframe'); let btn = (typeof iframe.contentDocument !== 'undefined') ? iframe.contentDocument.getElementById('branch-mobile-action') : iframe.contentWindow.document.getElementById('branch-mobile-action');btn.addEventListener('click',function(ev) { if(ev.preventDefault) ev.preventDefault();if(typeof window['adwordPixelEnabled'] === 'undefined') { googlePixelLoader(); fbPixelLoader(); // set to load only once after one click window['adwordPixelEnabled'] = true; }// install only if(branchData && !branchData.has_app) { FsBeacon.DoubleClickFloodlightTracking().fire(); } }); }); } }());



Source link