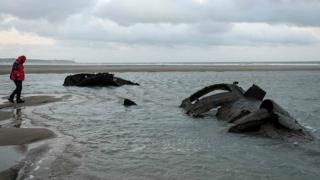 The wreck of a World War One German submarine is regularly resurfacing on a seashore in northern French after a long time of being buried within the sand.
Shifting sand off Wissant, close to Calais, is exposing the remains of the UC-61 which was stranded there in July 1917.
The crew flooded the vessel and deserted it and by the 1930s the submarine had largely been buried.
It is now turning into a vacationer attraction again, though the local mayor warns it might solely be a fleeting go to.
Since December, two sections of the submarine have been seen at low tide about 330ft (100m) from the dunes.
"The wreck is seen briefly each two to a few years, relying on the tides and the wind that leads to sand actions, however gust of wind and the wreck will disappear again," stated Mayor of Wissant Bernard Bracq.
However, local tour information Vincent Schmitt believes the winds and tides could result in much more of the UC-61 being uncovered.
"All the residents of Wissant knew there was a submarine right here, however the wreck is usually silted and subsequently invisible," he stated.
"Pieces reappear sometimes, however that is the first time we uncover a lot."
German submarines, often known as U-boats, focused Allied transport throughout World War One, sinking tons of of vessels.
Historians say the UC-61 was credited with sinking a minimum of 11 ships, both by laying mines or by firing torpedoes.
On its final journey, the submarine had left Zeebrugge in Belgium and was heading to Boulogne-sur-Mer and Le Havre to put mines when it ran aground.
The 26 crewmen surrendered to French authorities.