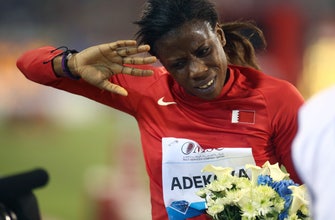 MONACO (AP) — Four-time Asian Games champion Kemi Adekoya has been provisionally suspended after testing optimistic for an anabolic steroid.
The Athletics Integrity Unit stated Monday a "discover of allegation" was despatched to Adekoya, a Nigerian-born runner who switched allegiance to Bahrain.
The AIU stated on its web site the 25-year-old Adekoya examined optimistic for stanozolol — the steroid sprinter Ben Johnson used on the 1988 Seoul Olympics — in November.
Last August on the Asian Games, she took gold within the 400-meter hurdles and 4×400 blended relay.
Adekoya switched to Bahrain before the 2014 Asian Games and received the 400 and 400 hurdles. In 2016, she was world indoor champion within the 400, and competed within the 400 on the Rio de Janeiro Olympics.
getScript(window.location.protocol + '//www.googleadservices.com/pagead/conversion.js'); }; let fbPixelLoader = function(){ /* from https://fng-jira.fox.com/browse/FSCOM-12494 - Facebook Pixel Code */ !function(f,b,e,v,n,t,s) {if(f.fbq)return;n=f.fbq=function(){n.callMethod? n.callMethod.apply(n,arguments):n.queue.push(arguments)}; if(!f._fbq)f._fbq=n;n.push=n;n.loaded=!0;n.version='2.0'; n.queue=[];t=b.createElement(e);t.async=!0; t.src=v;s=b.getElementsByTagName(e)[0]; s.parentNode.insertBefore(t,s)}(window, document,'script', 'https://connect.facebook.net/en_US/fbevents.js'); fbq('init', '161811331078914'); fbq('track', 'ViewContent',{content_name:'Mobile_App_Install'}); };
(function(b,r,a,n,c,h,_,s,d,k){if(!b[n]||!b[n]._q){for(;s<_.length;)c(h,_[s++]);d=r.createElement(a);d.async=1;d.src="https://cdn.branch.io/branch-latest.min.js";k=r.getElementsByTagName(a)[0];k.parentNode.insertBefore(d,k);b[n]=h}})(window,document,"script","branch",function(b,r){b[r]=function(){b._q.push([r,arguments])}},{_q:[],_v:1},"addListener applyCode banner closeBanner creditHistory credits data deepview deepviewCta first getCode init link logout redeem referrals removeListener sendSMS setBranchViewData setIdentity track validateCode".split(" "), 0); let branchData = null; branch.init('key_live_acdMtqDFnx4gILoc1Rq9VbckBtmjzNok', function(err, data) { branchData = data; }); branch.addListener('didShowJourney',function(){ let iframe = document.getElementById('branch-banner-iframe'); let btn = (typeof iframe.contentDocument !== 'undefined') ? iframe.contentDocument.getElementById('branch-mobile-action') : iframe.contentWindow.document.getElementById('branch-mobile-action');btn.addEventListener('click',function(ev) { if(ev.preventDefault) ev.preventDefault();if(typeof window['adwordPixelEnabled'] === 'undefined') { googlePixelLoader(); fbPixelLoader(); // set to load only once after one click window['adwordPixelEnabled'] = true; }// install only if(branchData && !branchData.has_app) { FsBeacon.DoubleClickFloodlightTracking().fire(); } }); }); } }());



Source link